Very exciting news! To top off what has already been a fantastic year - doing my first public tech talk on AWS, being invited to speak on a panel at Manchester Tech Festival, speaking at local meetups, and getting accepted into the AWS Community Builders programme for Serverless, I got awarded with a grant to attend AWS re:Invent in Las Vegas in a few weeks time! The conference spans from Nov 28th to Dec 2nd, and i'll be staying a few extra days either side to see the sights of Vegas, and briefly NYC. 🗽
AWS re:invent is an annual learning conference hosted by AWS for the global cloud computing community. It is arguably the biggest and best cloud related conference in the world. The in-person event features keynote announcements around new and exciting innovations and developments, training, access to over 1,500 technical sessions, and lots of networking 🍾
So how did I land this amazing opportunity?
A colleague posted a message back in July in the general work chat, about applications being open for a grant to attend re:Invent 2022. The grant is called the All Builders Welcome, or ABW, grant sponsored by AWS and Scholarship America.
"All Builders Welcome bridges the gap between the current status quo and the future of tech by elevating marginalized voices, magnifying innovative contributions, and building an environment where we see underrepresented groups in tech reflected in the cloud." Read more about the grant.
The grant removes the financial barrier to attend the conference - providing flights, accommodation and tickets to the conference. Grant recipients also get reserved seating in keynotes, special ABW events, closing remarks with the AWS team and more. To apply for the grant, you must meet the eligibility criteria, some of which includes being in the first 5 years of your technology career, identifying as part of an underrepresented group, or have faced barriers or disadvantages in your technology career due to discrimination.
The application consisted of three mini essays about myself, my career ambitions and what I would gain from attending re:Invent. A few months later after some delays, I received the e-mail saying I had been awarded with the grant! 🥳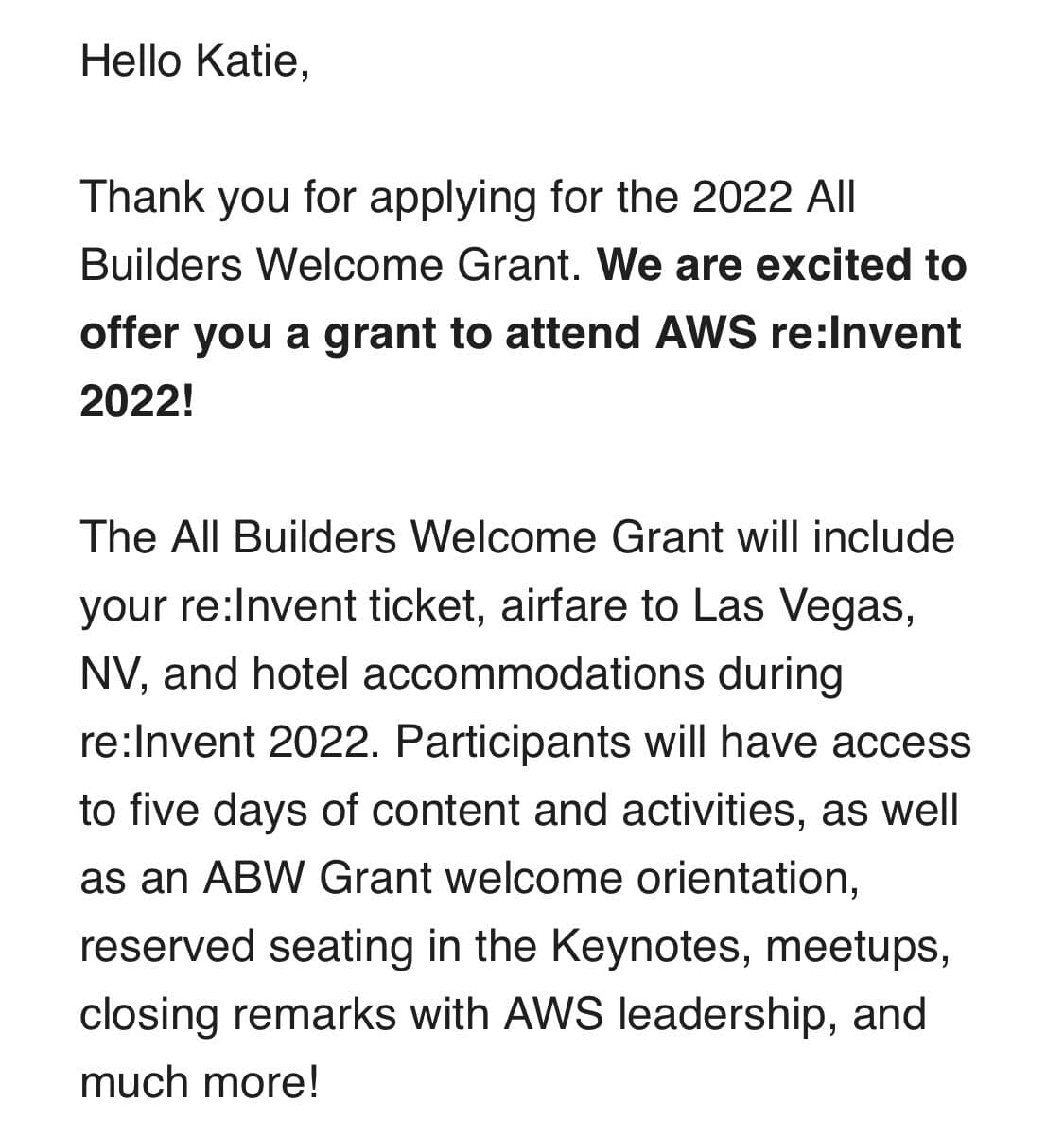 It feels like a dream come true to attend such an amazing conference. The learning opportunities are unparalleled, and I can't wait to meet so many other people across the globe passionate about AWS. I would hugely recommend anyone who fits the criteria to apply for the grant next year - you can also defer the grant by a year at the discretion of AWS if you have issues with applying for your visa or similar.
What will I be doing at the conference?
I've reserved 9 different practical workshops, alongside any other talks that I may attend, including 'Building event-driven architectures', 'AWS Modernization and DevOps Jam', 'Get Started with OpenSearch', 'Build a Serverless Web Application for a Theme Park', 'Building Quality into your CI/CD Pipelines' and more. I've selected a range of sessions - some of which I have less experience with and want to know more, some random ones for fun, and others I know will come in super useful at work - the OpenSearch session for example since I work in the Search area of an e-commerce site.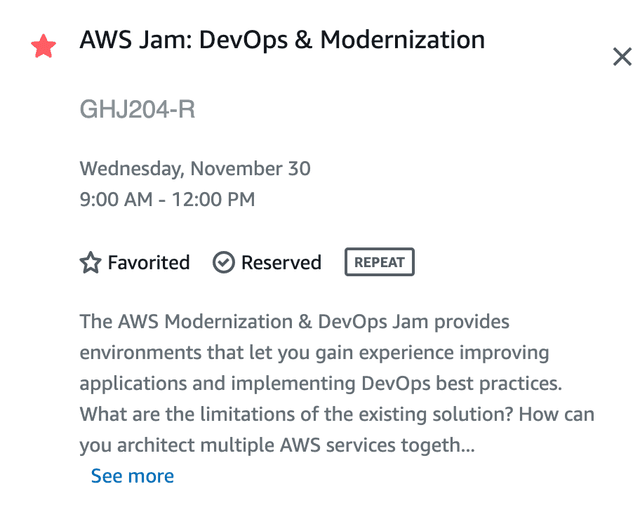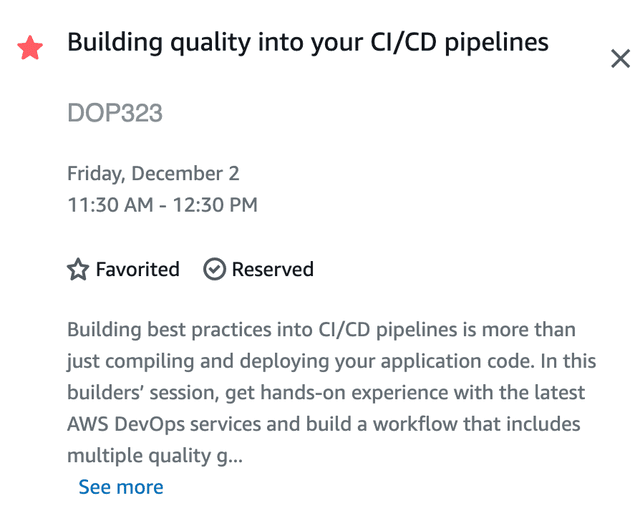 Alongside all these amazing workshops, I have a schedule slowly filling up with social and networking events, including connecting with other AWS Community Builders on the Tuesday evening at a mixer. For fun, i'll be be running a 5K through Vegas at 6am on the Wednesday morning (i'm not a runner by any means), with my super awesome friend and mentee, Meg, who also received the grant. We'll be attending the famous re:Play party on Thursday evening which includes an amazing headliner every year and exclusive event swag.
Three other amazing women from my workplace all got awarded the amazing ABW grant, and we can't wait to go to the conference! 🤩
If you're heading to re:Invent and would like to meet up - connect with me on Twitter or Linkedin and i'd love to hear from you.