Recently I discovered an amazing new gamified educational platform for learning all about AWS - Cloud Quest! ☁️ I'm currently on the journey of studying for for my AWS Certified Solutions Architect Associate (SAA) exam, using Cloud Quest to supplement my learning.
Learn-by-doing with Cloud Quest
Cloud Quest is a role-playing game which gives you 'real world' scenarios to solve using your cloud skills as you help citizens within a virtual city.
The game comprises of lab exercises, quizzes, and architecture challenges. Tasks for the citizens give you the opportunity to learn by doing. Presented with learning concepts and an architecture plan, you have to solve the problem using a real AWS console environment. There is a guided aspect to the lab, and then a 'DIY' section which gives you a challenge to complete without guidance using the skills you've learnt.
For completing the challenges, you earn reputation points, gems to upgrade buildings, buy clothes or vehicles. I currently ride around on an unicorn inflatable for the pool, and before that I was moving around the city via paper airplane. There is a super fun aspect to the game, with it's retro looking graphics and you might spot a random giraffe crossing the road too!

What I love about Cloud Quest in my experience is the learn-by-doing aspect, and getting actual experience doing things in the AWS console. For example, one of my most recent tasks was building a mini REST API with Lambda Proxy Integration using API Gateway + Lambda. Building real solutions gives me confidence that I know the theoretical and practical knowledge required for my exam.
The Certified Cloud Practitioner track on Cloud Quest is completely free, so you can give the game a try without commitment, and anything additional to that you can get a subscription to AWS Skill Builders which also includes 150+ additional skillbuilder sessions, Jam, and all the Cloud Quest tracks (including the Solutions Architect track i'm currently working on!). Other tracks available on the game are security, machine learning, and serverless developer.
Quick exam revision with mini games
There are mini games within Cloud Quest which involve answering AWS quiz questions. These quizzes are great to solidify my knowledge for my Certified SAA exam. Between taking on the lab challenges for citizens, I make sure to go around the city and take part in the mini games as I go along, to revise my learnings so far.
One of these mini games is becoming friendly with Pets around the city. To befriend a pet, you have to prove yourself by answering the quiz questions. Certain animals need a specific number of questions answered before they're impressed.
Example multi-choice questions could be:
Choose 3 statements which are true of S3.
An EBS-backed EC2 instance needs to be ____ before changing instance type. stopped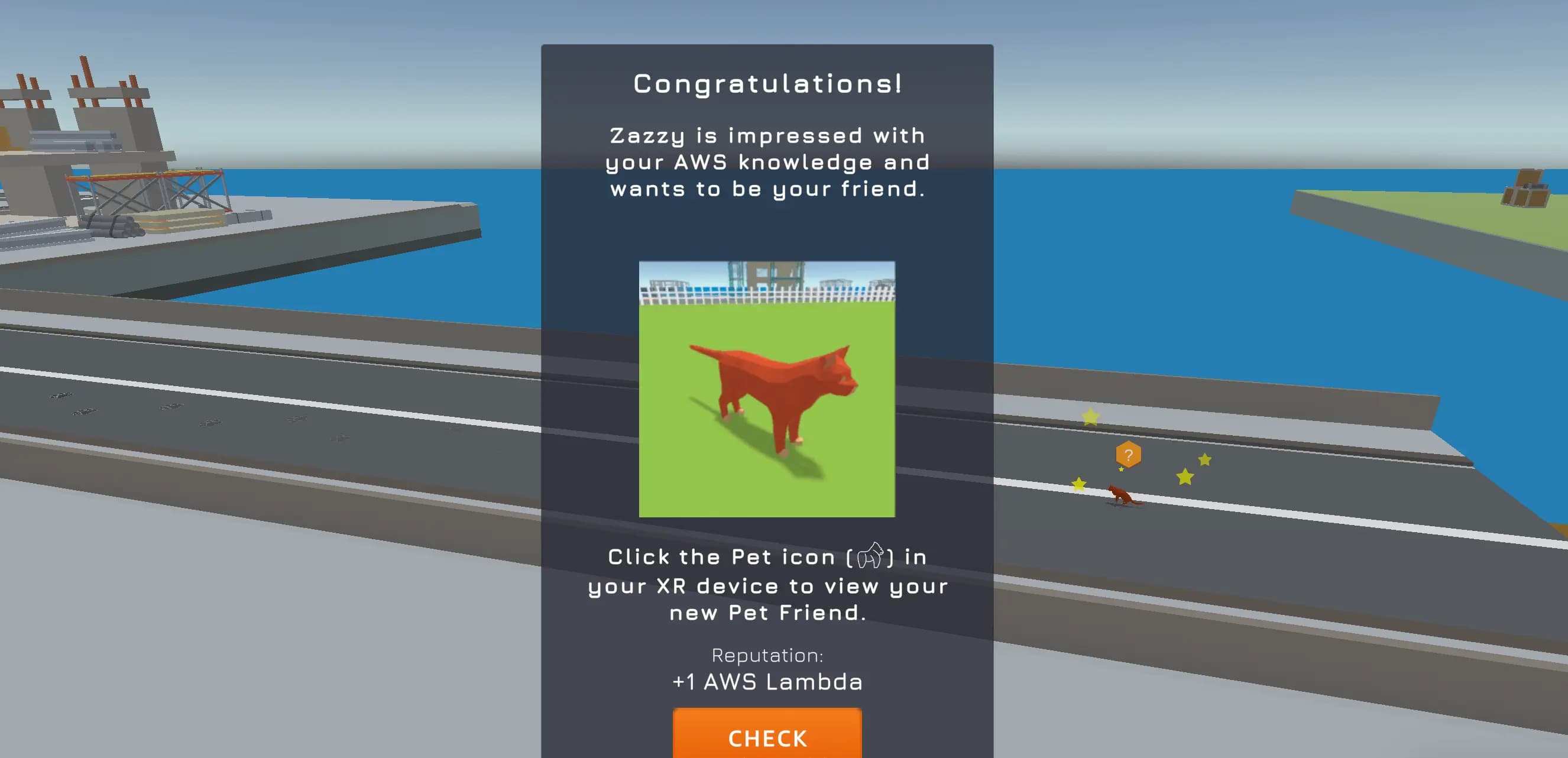 You can also enter Drone Capture Mode to play a fun mini game, shooting down drones throughout the city to earn AWS service cards. Some of the drones will carry a challenge in which you can use these cards to fill in the correct services within an architecture diagram. Seeing architecture diagrams and understanding how all the pieces fit together is key here.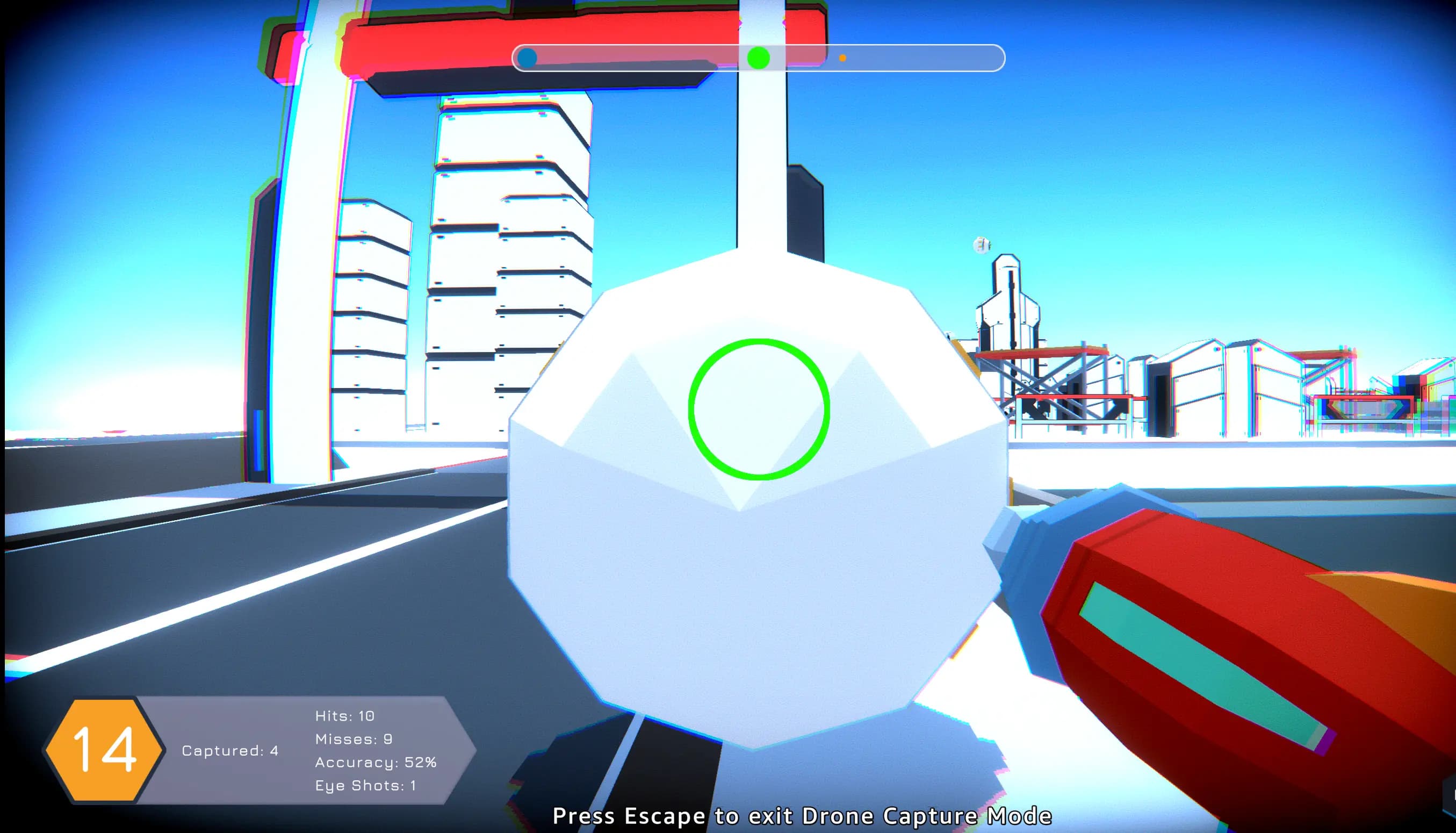 With so much to do in the game, it's so hard to get bored. I never imagined having so much fun learning and the gamification and rewards system keeps you playing for longer. I'm learning a lot in-game, and anything i'm not sure about, there are links to relevant documentation so you can read all about it. The solutions architect path on Cloud Quest is a valuable resource in helping me feel prepared for my exam. I'm learning around the services and architecture, and gaining practical skills I need to feel confident with using AWS.